St Michael's recognised those staff who have been judged by their peers to have gone above and beyond to support not only participants but also their fellow team members at morning teas in Launceston and Devonport this week as part of its Shining Stars program.
Nominations were received from staff members across the categories of Shining Star, Active Support/Outstanding Support, Leadership/Mentoring and Teamwork.
Those nominated were team members working across the organisation.
The recipients were:
Phill Southon (Shining Star): Phill broke his long service leave to deliver direct support to participants. He often delivers services in his own time and never expects anything in return. Phill has a positive "can do" attitude and is well regarded by participants across all areas of the organisation.
Jayde Richards (Active Support/Outstanding Support): Jayde always goes above and beyond what is required to ensure our participants receive the best level of care. She steps up to cover open shifts and always has a smile on her face.
Brad Watson (Active Support/Outstanding Support): Brad ensures that Bradie-Lee's health, wellbeing and happiness are his top priorities. The Lyne House team is endlessly grateful and appreciative of Brad's advocacy for Bradie-Lee's needs and his willingness to train and mentor new support workers to understand Bradie-Lee's needs. He is also able to adapt to the constantly changing circumstances without compromising the standard of care he offers.
Kerryn Cullen (Leadership/Mentoring): Kerryn has embraced the opportunity of training new staff within the IHTS team and sees their potential to improve and grow. She models best practice with participants, is attentive and intuitive to staff needs and has stepped up to provide significant insight and training opportunities to the new IHTS Operations Manager, new support workers and new administration assistant. Kerryn presents as approachable and welcoming and treats everyone as a "value add" to the organisation and appreciates the different experiences and perspectives that each person brings to their role.
Renee Dodson (Teamwork): Renee always presents a positive attitude, is flexible and willing to go the extra mile to help out at any time. She is an asset to the team in Devonport.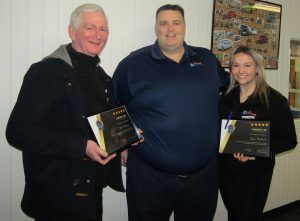 Mike is pictured with Brad and Jayde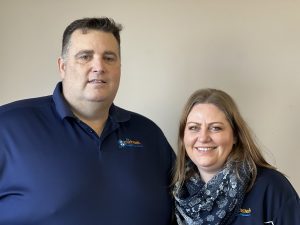 Mike and Renee