St Michael's Board president Colin Foon was last night recognised for almost three decades of distinguished and voluntary service by being accepted as a life member at the Association's annual general meeting.
In moving the Board's recommendation, fellow Board member and life member Brian Dunham said since Colin joined the Board he had served as secretary and vice president prior to being elected as the president in 2016.
"During this time Colin has also continued to provide his legal expertise, advice and time to deal with all Board matters on a voluntary basis," Brian said.
In accepting the honour, Colin said the Association was going from strength to strength with a broad range of quality programs currently on offer.
"It is certainly a good organisation to be involved with," he said.
At the AGM, the Association also recognised 11 staff members who had served the organisation for either five, 10 or 15 years.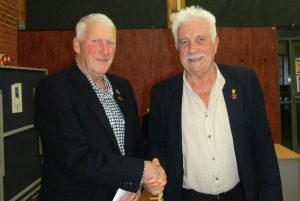 New life member and Association
president Colin Foon (right) is
congratulated by fellow board
member Brian Dunham.