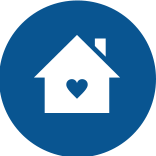 Respite
We offer short-term respite services to suit all your needs.
St Michael's offers respite in a newly purpose built comfortable, fun environment where you have your own individual bedroom and the opportunity to make friendships and join a social community.
Respite can be planned as a regular event, provided in emergencies and organised when friends are staying to enable long lasting relationships to develop.
This is a flexible service which provides for a break where fun, enjoyment and high quality support is provided.
The program is designed for individuals to feel comfortable and safe and enjoy a range of social activities. Support can be provided to enable individuals to attend their regular day support activities.
Each participant has their own room with plenty of space for personal belongings.
24-hour Temporary Support
You can stay for one day or longer, depending on your needs and the situation. The program is designed for you to feel comfortable and settled as soon as possible, no matter how long you stay. For 24-hour support we provide:
Accommodation
Support for self-care
Food and activities
How do I know if this service is in my plan?
It will be listed under the Support Category 'Assistance with Daily Living' (Support Category 1.01)
Look for 'Short Term Accommodation and Assistance' in your plan
Where is it available?
We offer emergency accommodation and short-term respite at Lyne House.