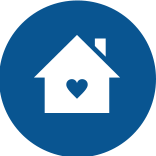 Respite
We offer short-term respite services to suit all your needs.
St Michael's Respite Program is a flexible service that provides for a break where fun, enjoyment and high-quality support is offered.
The Respite Program is focused on developing your community, social and life skills.
You will have the opportunity to get involved in fun, age-appropriate activities.
Respite is offered in a purpose built and comfortable environment where you have the opportunity to make friends and join a social community.
Up to five participants can be accommodated at any one time. You will have your own private bedroom and shared wheelchair accessible bathroom facilities.
Respite can be planned as a regular event, provided in emergencies and organised when friends are staying to enable long lasting friendships to develop.
The program is fully funded by the NDIA, based on the level of support that you individually require.
Food, electricity and internet (including access to Netflix, Disney+, Kayo Sport and Stan channels) are covered in the cost.
STMA also provides an allowance each day for activities such as entrance fees to zoos, cinema tickets, 10 pin bowling etc. This is a set amount and may not cover all costs.
The cost of transport while in Respite is also covered.
24-hour Temporary Support
You can stay for one day or longer, depending on your needs and the situation. The program is designed for you to feel comfortable and settled as soon as possible, no matter how long you stay. For 24-hour support we provide:
Accommodation
Support for self-care
Food and activities
How do I know if this service is in my plan?
It will be listed under the Support Category 'Assistance with Daily Living' (Support Category 1.01)
Look for 'Short Term Accommodation and Assistance' in your plan
Where is it available?
We offer emergency accommodation and short-term respite at Lyne House.