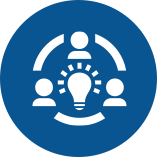 Our Team
Meet the dedicated and passionate team at St Michaels.
Our friendly team of professionals are on hand to answer all your questions. We're here to assist you to achieve your goals.
John joined St Michaels in 2011, bringing with him 24 years of leadership and management experience. For 17 years, he has worked with individuals to develop lifelong learning skills in the disability and vocational sectors.
Rod Campell
State Manager Disability Services
With more than 10 years' experience working in the disability sector, Rod brings a vast range of skills, knowledge and experience to St Michaels. His career has spanned business development, project management, marketing, publishing, fundraising, and promotional and disability support initiatives.
Andy Gower
Corporate Services Manager
Andy has more than 10 years' experience working in the financial sector. He has previously run his own business, and brings specialist skills in team-based learning to St Michaels. He is also a passionate coach of cricket and football umpiring groups.
Pauline Robson
Business Manager Disability Services
Pauline has more than 40 years management experience working in the disability and aged care sector. Pauline is passionate about assisting others to maintain their independence through life-long learning, advocacy and direct support.
Kim Dean
Registered Training Organisation (RTO) Manager
Kim has more than nine years' experience in an RTO. In this time she has developed high-level leadership skills in RTO administration, student management systems, compliance, and delivery of training and assessment. Her focus is on positive outcomes for all participants and clients.
Colin is a long-time member of the St Michaels Board. He is a practising solicitor in Launceston, and a keen supporter of local football.
Margot Malik
Board Vice President
Margot is a Human Resources and Learning Development Specialist and Consultant. She has global executive-level experience in HR and training, for business platforms such as retail, hospitality, insurance, pharmacy and sales.
She is also a life coach, master NLP practitioner, and a mentor to managers and staff.
Keith Watson
Board Treasurer and Chair of the Audit and Risk Subcommittee
Keith has been an accountant in Launceston for more than 10 years. Keith completed his CPA professional qualifications and earned a Master's degree in accounting in addition to being a Chartered Tax Advisor with the Tax Institute of Australia, and chairs the Audit and Risk Subcommittee.
Brian is a building maintenance contractor and also a carer for a resident at St Michaels. Brian has considerable experience on the Board.
Michael Higgins
Board Member
Michael works for the largest provider of vocational education and training in Tasmania. He has been working with individuals and community groups for the past 10 years, providing opportunities to enhance their lifelong learning. Prior to this, he had extensive experience in the construction and hospitality industries.
Simone Woodruff
Board Member
Simone has 24 years' experience working in disability services. She was President of Independent Services for 22 years, and spent 15 years at Housing Tasmania as a Tenancy Officer for public housing.
Grayson Genders
Board Member
Grayson brings significant experience in brand and marketing to the team. He has had a successful and varied career across a range of sectors. Grayson has worked with several members of Federal Parliament as an electoral officer, and in 2005 he joined Tas Gas in their marketing and connections teams. Eventually, Grayson became their Commercial Marketing Manager, developing new strategic marketing approaches. Other experience has included rebranding, creating and running new advertising campaigns, and innovating in digital mediums.
Dr Christine Materia
Board Member
Christine holds a PhD in Medicine (Rural Health) from the University of Tasmania. She also has a broad range of administrative, management and strategic development experience in local, state and federal government. In addition, Christine has experience in community services, and rural and mental health. She is also a Keelboat Instructor, volunteering with Sailability and Sailors with disAbilities, giving disadvantaged and disabled children and adults the chance to try sailing.
Cheryl Scott is a Speech Pathologist who has many years of experience in the public sector. Her son attends St Michaels. She is keen to work with parents and St Michaels to improve outcomes for all participants.